EVERY SECOND COUNTS: INTRODUCING PANZERA FLIEGER 46 QUARTZ CHRONOGRAPH
When we set out to design a pilot's chronograph to join our popular mechanical Flieger 46, we wanted to create an instrument that would meet the needs of people who are habitually at the controls of sports or commercial aircraft, as well as appealing to our customers who are inspired by the world of aviation. So, we spoke to experienced pilots – including our ambassadors Amir Zoghi and Colin Weeks – to find out what they expect from a watch in the cockpit.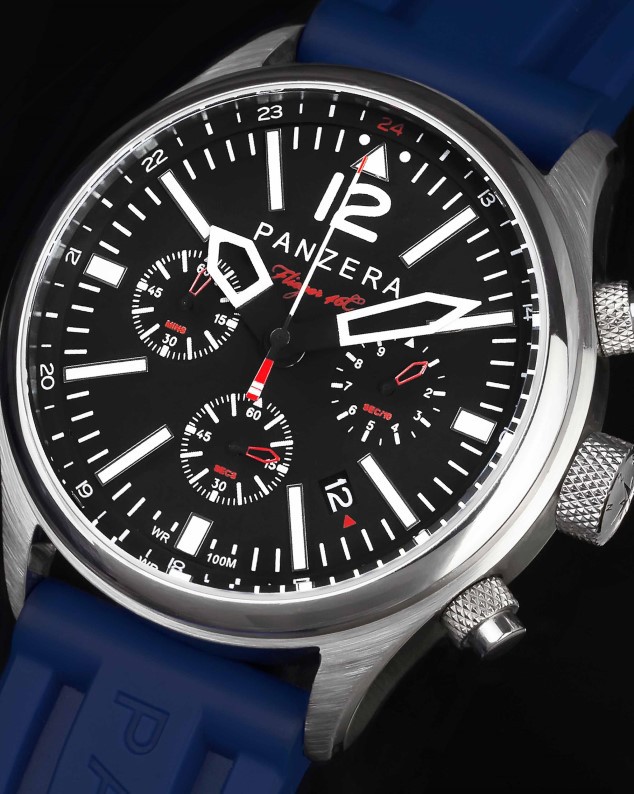 The answers we received were that a pilot's chronograph watch should excel above all in legibility and precision. So our designers ensured that the Panzera Flieger 46 Chrono shares all the clarity of the three-hand mechanical Flieger 46, with its generous size and extreme clarity. The layout of the Chrono dial reflects the feel of a cockpit instrument panel, with subdials providing all the information required. The large skeletonized hour and minute hands, and the indices at the edge of the dial, have a luminescent coating for use in low light conditions. The subdials are laid out to match the rest of the dial and achieve the same degree of legibility.
The need for accuracy is a direct consequence of the performance of modern aircraft. At speeds of hundreds of miles an hour, even a fraction of a second can translate into a considerable distance. So from the outset, it was clear that the engine inside the new Panzera Flieger 46 Chrono would have to ensure a time-keeping accuracy of less than one second's variation per day. In addition, it would have to be able to time events with a precision of one-twentieth of a second. That's why we chose a quartz movement, more specifically the Calibre 6S20, which oscillates 32,768 times per second and enables an accuracy far superior to the 3 or 4 Hertz of a mechanical movement.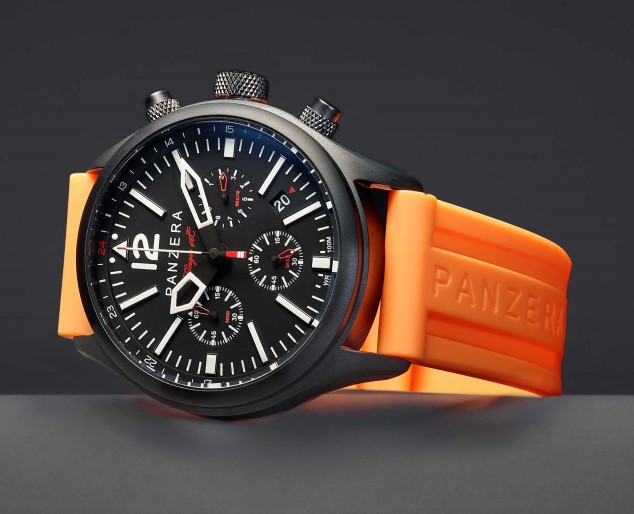 This accuracy can be seen immediately from the dial layout, with the subdial at 3 o'clock subdivided into tenths and twentieths of a second. Chronograph seconds are indicated by the long centre-sweep seconds hand, with chronograph minutes on the subdial at 9 o'clock. Running seconds are shown at 6 o'clock. The calibre that we chose for this timepiece has a special feature: while most quartz watches can be recognized from the stepwise progression of the seconds hand, in our Flieger 46 Chrono the long chronograph seconds hand has a distinctive constant sweep movement. This provides a good depiction of the flow of time, and additionally looks exceptionally cool.
GOOD LOOKS, GREAT PERFORMANCE
The case shares our aviation family's DNA, with its gracefully curving lugs and the differentiated bright and brushed finish that hallmarks our high-quality production. The anti-reflective domed sapphire crystal watch glass further enhances legibility. The chronograph pushers are nicely worked, with the same knurled finish as the large pilot's crown. The 316L stainless-steel case with screw-down crown provides a water resistance of 100 metres, making this a watch that can be used equally as a professional pilot's watch, as an everyday timepiece, and as a sports watch that has no fear of rain, spray or even immersion in shallow depths of water. As for all our timepieces, technical quality is assured by a stringent series of tests performed on every unit at our base in Australia. After being cased up by our watchmakers, each watch undergoes five days of testing to verify quality, shock and water resistance. Its serial number, laser-engraved onto the case, is logged into our database, before the timepiece is shipped to its new owner.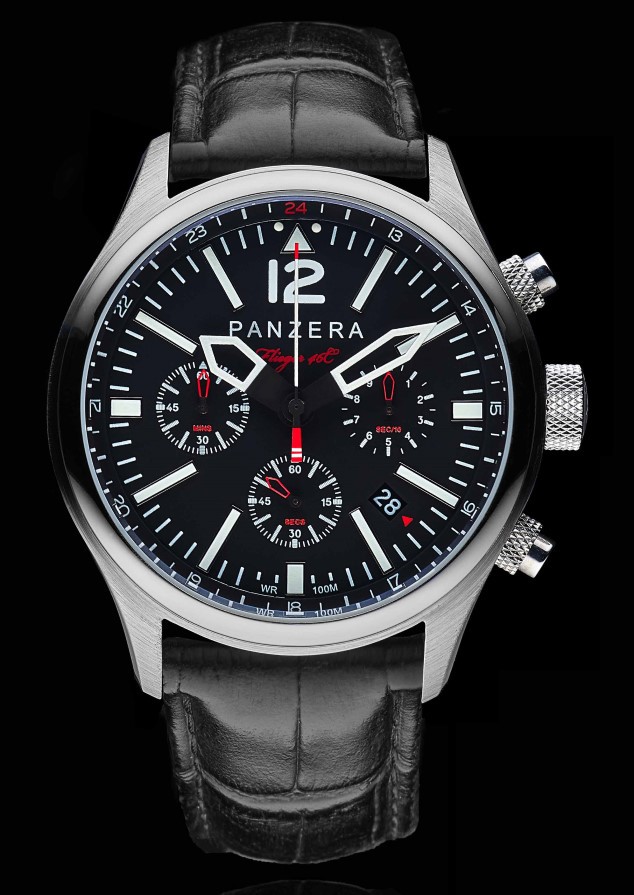 We have seen that watch enthusiasts like to be able to customize their timepieces, and so we have provided a wide range of options for the Flieger 46 Chrono. The case is available in steel with bright or IP matte black finish, and straps include leather, steel mesh, and an extensive series of colourful rubber straps. They are all quick-release so that you can easily change the appearance of your watch yourself.
In short, the Panzera Flieger 46 Chrono gives you all the adrenaline of high-speed flight, and offers a distinctive look well-suited to everyday life, both in the air and on the ground.