Adam Swords, photographer, videographer, diver, Panzera ambassador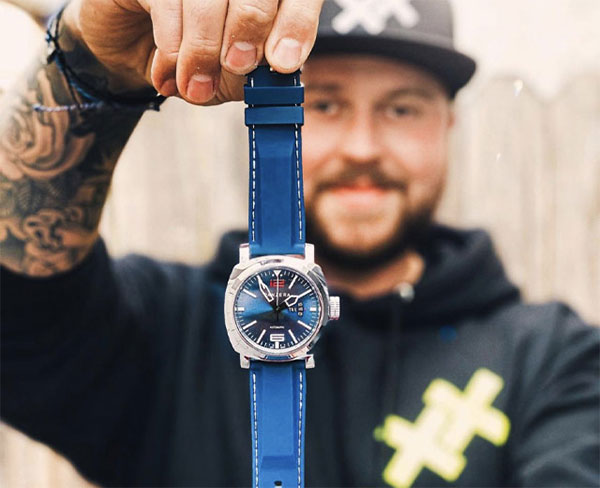 Adam Swords has been a Panzera ambassador since 2018. Now famous for his Adam Swords YouTube channel, Adam is in constant search of adventure and life experiences, ranging from free-diving in the Pacific Ocean to driving supercars and exploring the wildest corners of the earth in his off-grid camper van. During his exploits he is accompanied by his dog Diesel, and very often by Panzera watches.
Adam Swords was born in the UK, and his career as a photographer began there somewhat unexpectedly. "I started riding mountain bikes, and always took my videocamera along, so I was basically the photographer for my mountain biking group. But I was far better at photography than mountain biking, and so as my friends started to get sponsors, I became their official photographer. I was about 16 at the time. This led to work with mountain biking magazines, and then I began to get into cars, and so I worked for magazines in that area. After university I started to take photos for advertising campaigns". You can see Adam Swords' portfolio here.
Photographer and videographer
At the age of 22 Adam landed a commission for a global ad campaign for Honda motorcycles. From there, through immense dedication in ensuring that his work was constantly under the eyes of the world's top art directors, his career really took off, and he shot campaigns for brands such as Sony, Microsoft, Nokia, Canon, Dell and many others. In 2016 he moved to Los Angeles in order to relocate his business from the UK.
Original content producer
One Sunday morning, during a breakfast supercar drive in California, he met a personality who would prove pivotal in taking his career to the next level. "I was taking photos of the cars, this guy just sauntered over and asked me what I did. He was Michael Blakey himself. Michael is the man whose YouTube channel Producer Michael features the lifestyles of the rich and famous, exploring the world of watches, mansions, supercars, jewellery and more, with over a million subscribers and almost 154 million views. "He's English, we chatted for a while, and soon we started to work together. We are now partners in the Producer Michael YouTube channel, for which I am the photographer and videographer". The photo below is of the Panzera Aquamarine Pro Diver, published on Adam Swords' Instagram channel.
Adam Swords and Panzera diving watches
This was how Adam Swords discovered the joy of creating original content. In 2019 he launched his own YouTube channel, and he has often featured Panzera watches in his videos, particularly the Aquamarine Pro Diver models that are perfect companions for his passion for diving. He uses his watches so intensively that he is not just a fantastic ambassador for the brand, but also a watch tester, as you can see in one of his latest diving videos in which he wears the Panzera Pro Diver on rubber strap.
Panzera watches, well suited to a tough lifestyle
"I absolutely love my Panzera watches", says Adam, "I've been wearing them for the longest time. The brand's owner, Roger Cooper, reached out to me very early on during my work on the Producer Michael channel, he sent me a watch and said, "Look mate, check this watch out, see what you think". They are beautiful on the wrist, and beautifully-priced. My Panzera's have lasted me for ever, they've survived everything I've put them through…"
Dedication and inspiration
Adam Swords has worked incredibly hard to reach his present position in the world of adventure on the social media, and this has undoubtedly contributed to his positive mindset and infectious enthusiasm. "I would like to continue doing this channel", says Adam, "inspiring others, giving back, bringing people along with me, getting my friends involved. One of my favourite sayings is 'a rising tide floats all boats', and I firmly believe that. I would like to show people that life is there to live, and that the only thing getting in the way of you living the life you want to live is you".
PANZERA / SWRDZ Strap collaboration
We are excited to announced the first product collaboration between PANZERA and Adam Swords' personal brand (SWRDZ). Together we have developed a signature PANZERA x SWRDZ Neon Yellow rubber watch strap. This "fast release" strap can be used on all of the PANZERA watches that use 24mm wide straps including; Aquamarine 45, Aquamarine Pro Diver, Aquamarine Riviera, Flieger 46 and Flieger 46 chronograph models.
The bright neon yellow synonymous with the SWRDZ brand is instantly recognizable, featuring the SWRDZ "XX" logo. On the inside of the strap is Adam's personal message and reminder to you to "FIND YOUR EVERYDAY ADVENTURE" . In addition, US$1 of the proceeds of all SWRDZ straps sold will be donated to the Wetlands and Wildlife Center in Huntington Beach, dedicated to the rehabilitation and release of injured and orphaned native wildlife.